ANGELA RUIZ-CORTINA
Practising and Licensed Lawyer
Member of the Malaga College of Lawyers
NON-RESIDENT TAXES
From the day you purchase Real Estate Property in Spain, you become liable for filing Spanish non-resident tax.  The tax/liability is calculated using as a base the annual rates (Valor Catastral). A Tax form is filled and filed via the Tax Office web site, and then taken to a local bank for payment.
When?
As an example if you purchased a property in 2013, "sale by date" would be the 31st of December of 2014. So the last day of each calendar year is the last day for filing the non-resident taxes due for the previous year.  Our office prepares the annual non-resident taxes for a large number of clients.  Please contact us for an estimate of costs.
NIE NUMBER
A NIE stands for Fiscal Identification Number.  It is required in Spain when purchasing property. Be it by way of inheritance or direct purchase.  This can be requested and obtained at the Police Station nearest where the property is located.  A form needs to be filled in with the person´s details, a Tax form also needs to be filled in and taken to the bank for its payment prior to presentation at the Police Station for NIE request together with passport copies and original before they will issue the needed number.  Our office can help you by providing you with the forms and filling in the correct fields.  If you are unable to travel to Spain, our office can request the NIE for you, but you will need to empower us to do so. As an alternative, you can contact your nearest Spanish Consulate to request the NIE.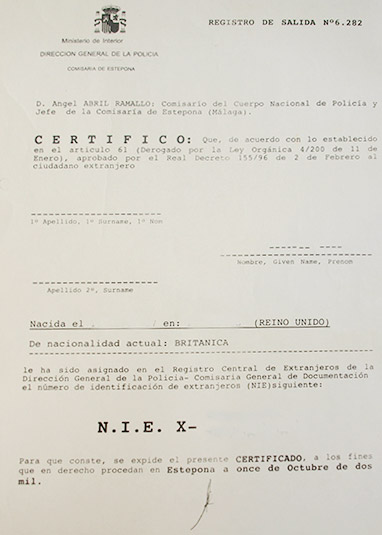 How to Find Us